Tropical Go is supported by its audience. When you purchase through links on our website, we may earn affiliate commission. 
Did you know that overwater bungalows (well, the luxurious ones anyway) were invented in French Polynesia during the 1960s? Imagine waking up to blues of every hue surrounding you, tiptoeing down your own private ladder into the ocean below. If this sounds like a dream, these are the best overwater bungalows in French Polynesia (including Tahiti, Bora Bora, Moorea, and more).
Tips for Choosing Your Overwater Bungalow
Bungalow location matters: If you're on a budget, look for overwater bungalows facing the mainland part of the hotel. These tend to be less private, and occasionally smaller or older. If you want maximum seclusion, opt for a bungalow at the end of the pier. You might not want to have other tourists padding their SUPs in front of your bungalow as you're honeymooning away, unless you're an exhibitionist or something.. But that's just us.
Mainland vs. motu: Private island resorts often have overwater bungalows on a motu, a small island with few to no other businesses or homes around. If you're looking for a retreat where you can laze the day away, this is ideal. If you want to stay busy visiting restaurants and going on tours, then go for an overwater bungalow resort on the mainland, like Bora Bora's mainland, Moorea, or Tahiti. Note that most dive and tour operators will pick you up from your private island resort, though there may be a fee.
Travel during the shoulder or off season to save money: The Islands of Tahiti off season, from November to April (excluding the weeks around Christmas), tends to be the cheaper than the high season. But, there's a risk you could run into poor weather. If you're eyeing a resort and the prices are just too high, come over in the mid- to low-season to save around 30%.
I traveled to tens of hotels while researching the ultimate guidebook to the islands, Moon Tahiti & French Polynesia. These are my favorites.
Best Overwater Bungalows in French Polynesia: At a Glance
St. Regis Bora Bora, Bora Bora
Four Seasons Bora Bora, Bora Bora
Le Taha'a by Pearl Resorts, Taha'a
Sofitel Kia Ora Moorea Beach Resort, Moorea
Hotel Kia Ora, Rangiroa
Conrad Bora Bora Nui, Bora Bora
Le Tikehau by Pearl Resorts, Tikehau
Best Islands of Tahiti Overwater Bungalows: In Depth
The St. Regis Bora Bora is where to go if you want an ultra-luxurious escape with huge rooms and just about every amenity.
The St. Regis Bora Bora earned its claim to overwater bungalow fame by having the largest overwater bungalows in Bora Bora, 1,550 square feet to be exact. The resort is on a motu off Bora Bora's main island, and the picks of the property have views overlooking the mountainscape of Bora Bora.
Each overwater bungalow has a living room, bedroom, spacious bathroom, and glass viewing panels on the floor of the room. Some have a plunge pool on their deck.
Guests have access to Lagoon Restaurant by Jean-Georges, one of the best in French Polynesia. there's also a spa, fitness center, and multiple swimming pools–including one that's adults only. It's a Marriott property.
Book your stay at St. Regis Bora Bora
Le Taha'a by Pearl Resorts has a little more soul than the big-name resorts of Bora Bora, and the bungalows are just a few fin kicks from one of the region's best snorkeling spots.
If you want to venture a little off the beaten path, check out Le Taha'a by Pearl Resorts. It's found on the private motu of Tautau, and most of the overwater bungalows look out to Taha'a's mainland. Overwater suites are built from bamboo and have thatched roofing, giving them a distinctly Polynesian flair. Each is equipped with a small deck, bathroom with bathtub, wifi, and access to the lagoon. The premium suites have a bit of a bigger deck, while the sunset suites have world-class views of the sunset. Enjoy the spa, multiple restaurants, and activity center.
Book your stay at Le Taha'a by Pearl Resorts
Be close to it all–white sand beaches and Moorea's iconic landmarks–while still staying in your private overwater bungalow at the Sofitel Kia Ora Moorea Beach Resort.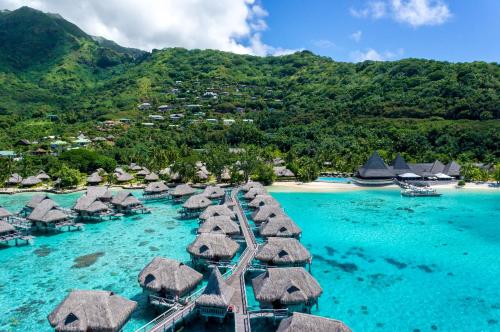 Moorea's finest resort happens to be on one of its best beaches, Temae Beach. This stretch of sugar sand is a major highlight for active travelers. Snorkel, standup paddleboard, kayak, and swim around the bures. When it's time to explore Moorea, there's no boat ride required as it's on Moorea's mainland. You can reach it from Tahiti by plane or ferry.
Each of the 38 overwater bungalows has a natural charm with dark woods, thatch roofing, and spacious lounge areas. They're all nice, but the picks of the property are the Superior Horizon bungalows which have a little more privacy and look out to Tahiti. Luxury Horizon overwater bungalows are slightly more modern. The property also hosts a spa, multiple restaurants, and activity center.
Book your stay at Sofitel Kia Ora Moorea Beach Resort
Want the views and feeling of an overwater bungalow with a cozy atmosphere? Hotel Kia Ora offers an intimate boutique-style stay off the atoll of Rangiroa.
Overwater bungalow resorts have somewhat become synonymous with big hotel brands with features and styles that all seem to run together. Fortunately, if you're looking for a boutique stay, there's the Hotel Kia Ora. With just ten overwater bungalows, this retreat is on the main motu of Rangiroa, one of the largest atolls in the world. The snorkeling just off the resort brings views of sea turtles, stingrays, reef sharks, and if you're lucky, manta rays. You can also enjoy your stay with a sip of wine from Vin de Tahiti, the only wine made from grapes grown on an atoll.
Each room has a spacious bedroom, bathroom with bathtub, glass-bottom floor, and private deck with ocean access. Back at the main property area, there's a spa, restaurant, and overwater bar.
Book your stay at Hotel Kia Ora
Perfectly manicured gardens, bright blue lagoons, and modern overwater bungalows make the Four Seasons Bora Bora one of the best private islands resorts in French Polynesia.
For that splash-out overwater bungalow experience, head to the Four Seasons Bora Bora. Inside the bungalows, there's a separate living room, bedroom, and bathtub. Everyone has a large lounge deck leading into the water. The pick of the property are the bungalows at the end, which face Bora Bora's beautiful main island. But, if you get one that peeks out over the motu or fellow overwater bungalows–you'll still have great views from the beach, the pool with private cabanas, and the restaurants. Service here is top notch, and the restaurant caters easily to vegetarians. Don't forget to pencil in a spa treatment!
Book your stay at Four Seasons Bora Bora
Luxurious and secluded with nothing being too much to ask, Conrad Bora Bora Nui has two-story bungalows and is a perfect fit for groups and families.
Bora Bora overwater bungalows are the most challenging to parse between–they can all blend together after a while. What makes Conrad Bora Bora Nui different from the others is its location. It's found on a motu just off Bora Bora's mainland, and most bungalows face the open ocean, though many peek out over Mount Otemanu. Being here brings that wild island feel, and rooms are equipped with a lounge room, bathtub, and many have overwater hammocks. Its multi-bedroom bungalow offerings also make it one of the best overwater bungalows in Bora Bora for groups; there are very few around the island.
Book your stay at Conrad Bora Bora Nui
Scuba divers and snorkelers, you'll want an overwater bungalow at Le Tikehau by Pearl Resorts.
Father of modern scuba diving Jacques Cousteau said Tikehau had the highest number of unique fish species out of anywhere in the world. A plunge under the sea's surface reveals his accolade likely still stands. While not as modern as some of the other overwater bungalow resorts of Bora Bora, Le Tikehau by Pearl Resorts is a laid-back and worthwhile retreat. Overwater bungalows are made with thatched rattan, each with a small outdoor deck. Inside, they have a traditional fare feeling with thatched roofs, plush beds, and a viewing glass over the water.
Book your stay at Le Tikehau by Pearl Resorts
More French Polynesia travel tips